Hurricanes and storms across the country have been prolific and devastating this past year.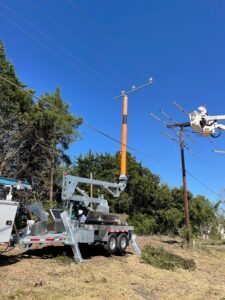 We are listening to the needs of the field operators, and we have responded with serious solutions.
Here are two significant tools to assist you with storm restoration and recovery efforts.
The first can replace the need for a much-in-demand line truck. The Rapid Overhead Recovery Trailer is designed specifically to restore the line by holding wires while the damaged poles are restored, this trailer can be left in the field indefinitely until rebuilding work can be scheduled. With multiple staged units, crews can quickly deploy to where damage is most significant.
The second unit is engineered to address the unwanted issue of having tools and jobsite equipment tied to a truck. The tow vehicle need not be a line truck and is free to detach at the jobsite. This workhorse Construction and Maintenance Trailer is specifically designed to provide a fully stocked and ready to deploy mobile solution. Completely customizable and provided with a SmartPower solar battery system for near-infinite flasher and compartment lighting, this unit is also equipped with a lockable drawbar ring for 24/7 security.
---